The Airport
Kapiti Coast Airport is one of the few privately owned regional airports in New Zealand.
Despite its strategic significance as a second airport for the Wellington region, it is currently a small, mainly general aviation, airport located on the Kapiti Coast, north of Wellington. Approximately 25,000 aircraft movements occur each year. The majority of these are general aviation, such as flight training for fixed wing aircraft, and recreational flying including gliders and microlights, although a small air service operator, air2there.com has scheduled flights to Wellington, Blenheim and Nelson.

In late 2011 Air New Zealand introduced scheduled daily commercial services between Paraparaumu and Auckland utilising a 50 pax Bombardier Q300 aircraft. As of April 2018, this Auckland service has been suspended.
History
In 1934 the NZ Government decided that Rongotai would be Wellington's main metropolitan airport. At the time, the NZ Civil Aviation authority recommended that alternative airports be built at strategic locations throughout New Zealand for emergency use.
In August 1938 Paraparaumu was selected as an airport location for emergency use and for when adverse weather conditions prevented the use of Rongotai. The airport was also to be used for defence purposes as the Second World War was imminent.
On 18 June 1939 the Minister of Public Works (Bob Semple) initiated the construction at an open day demonstration of the new bulldozers and scrapers that would be used for the construction of the Airport. Substantial earthworks were necessary to drain swamps and level sand dunes to construct the runways.
Between 1947 and 1959 Rongotai Airport operations were severely restricted for safety reasons as its grass runways were unusable in the winter months. Consequently National Airways Corporation relocated to Paraparaumu and the airport became New Zealand's busiest airport.
However when the Rongotai Airport upgrade was completed in 1959, and as Paraparaumu had been judged unsuitable for international flights due to the proximity of Kapiti Island and the Tararua Ranges, NAC operations were again concentrated at Rongotai and Paraparaumu reverted to a mainly general aviation airfield.
Over the following 50 years there was very little investment in the airport until the airport was sold in 2006 to new private owners led by Sir Noel Robinson, and an ambitious plan was developed to upgrade the facilities in a bid to attract commercial scheduled flights and build a business park to support the aviation activities.
Originally known as Paraparaumu Airport, the company changed its name to Kapiti Coast Airport in April 2011.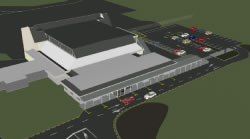 Artist's Impression of Terminal 1