IMPORTANT INFORMATION below for operating a remotely piloted aircraft within 4km of Kapiti Coast Airport.
Please ensure you have read and fully understand the conditions outlined below BEFORE requesting approval from the Airport Authority.
An approval cannot be granted unless you meet ALL necessary requirements.
Civil Aviation Rule (CAR) Parts 101 and 102
In 2015, the Civil Aviation Authority (CAA) introduced new rules that apply to Remotely Piloted Aircraft Systems (RPAS) or otherwise known as "UAVs" or "drones". The intention of the Rule is to ensure the safety and privacy of the public are protected due to the rapid rise in the use of remotely piloted aircraft.
Specifically, this requires any operation of remotely piloted aircraft within 4km of any airport to have approval from the airport authority first, which is subject to CAA requirements below, to ensure any use of RPAS within the vacinity of the airport will not compromise the safety and security of aircraft operations. It is also a criminal offence to endanger an aircraft in flight.
Current requirements are that any RPAS flight shall comply with CAA Rule Part 101. This needs to specifically include Rule Part 101.205 – Aerodromes, in particular reference (A)(3).
The extract below is from the current version of this rule (click here for PDF) –
Civil Aviation Rule Part 101.205 – Aerodromes
A person must not operate a remotely piloted aircraft or a free flight model aircraft on or within 4 km of—

an uncontrolled aerodrome, unless—

the operation is undertaken in accordance with an agreement with the aerodrome operator; and

in the case of a free flight model aircraft, the aircraft is launched downwind of an active runway; and

in the case of a remotely piloted aircraft –

each pilot has an observer in attendance while the aircraft is in flight; and

the aircraft is not operated at a height of more than 400 feet above ground level unless the operator has been approved by the Director to operate the aircraft above 400 feet above ground level; and

a controlled aerodrome, unless it is operated in accordance with an authorisation from the relevant ATC unit; and

any aerodrome, unless—

the person—

is the holder of, or is under the direct supervision of the holder of, a pilot qualification issued by an approved person or organisation; or

is under the direct supervision of a person appointed to give instruction in the operation of remotely piloted aircraft by an approved person or organisation; or

is the holder of a pilot licence or certificate issued under Part 61 or Part 149.

A person must not operate a remotely piloted aircraft, a control line model aircraft or a free flight model aircraft—

on or over any active movement area of an aerodrome; or

on or over any active runway strip area.

Paragraph (A) does not apply to a shielded operation that is conducted—

outside of the boundary of the aerodrome; and

in airspace that is physically separated from the aerodrome by a barrier that is capable of arresting the flight of the aircraft.

Paragraph (A)(3) does not apply to a free flight model aircraft.
NOTE:
Shielded operation means "an operation of an aircraft within 100m of, and below the top of, a natural or man-made object" – i.e. below the top of surrounding trees or buildings.

Kapiti Coast Airport is NOT a "controlled aerodrome" and therefore does not have "controlled airspace" around it, however it does have an Aerodrome Flight Information Service (AFIS) whereby there is an operator in the Airport's tower providing advisory weather and airspace traffic information only to aircraft. Kapiti Coast Airport is technically an "uncontrolled aerodrome" in respect to the rules associated with remotely piloted aircraft.
Requirements for Approval
Essentially so long as it is no risk to Kapiti Coast Airport, and aircraft operations at or within the vicinity of the airport, we are generally OK with use of RPAS within the 4km radius of Kapiti Coast Airport providing we have an understanding and agreement of each RPAS operation.
Each RPAS operation requires a separate approval from the Airport which is subject to the RPAS operator meeting requirements noted below due to liability and safety reasons. Please note the Kapiti Coast District Council is not able to provide approval in respect to this requirement.
In order to ascertain the effect on airport operations and safety, and to provide any approval, we require an RPAS operator to fill out an RPAS Approval Request available here.
Any location for RPAS operations beneath or near the Airport's approach and take-off flight paths and circuits requires extreme caution, as well as careful consideration with any approval given by the Airport Manager.
For the flight operation, we need to issue a NOTAM (Notice to Airmen) for the duration of the operation to alert all pilots of the drone's presence. Generally to do this we would need an approval request at least the day before a proposed operation. It can be inconvenient for an RPAS operator to make contact for approval at short notice or at the time they plan to fly the aircraft, in order to determine all requirements are met, and have necessary safety mitigations in place, in which case it is likely that approval would not be given. The Airport Manager will provide a copy of the NOTAM once able to approve the flight and issue this.

When operating in relative proximity to the Airport's circuit and typical flight paths, we also require the RPAS operator to have a VHF radio tuned in to 118.30MHz in conjunction with the person meeting the CAR Part 101.205(a)(3) requirement. If they are unable to find anyone, it is recommended that they get in touch with the Kapiti Aero Club – 04 902 6536 – who are quite willing to help out.

If the RPAS operation is on or near runways and their approach and take-off fans (where it may infringe a runway's Obstacle Limitation Surfaces), the operation may be subject to height restrictions or the runway may need to be closed for the flight to take place. Runway closures require coordination with all airport operators well in advance. If height restricted, we may require the RPAS aircraft to be no higher than a specified height above ground level at the advised location (including if shielded operation) due to the airport's Obstacle Limitation Surfaces at this location.

Once approval is issued, the RPAS operator will need to liaise with the airport tower (AFIS) accordingly to inform them prior to commencing the start of the operation and when completed, to confirm it will not be any concern to any aircraft, as well as be available on their mobile throughout the operation in case the AFIS needs to contact them. Contact details will be provided with an approval.

The CAA rule also requires the RPAS operator to seek approval from the land owner for the property they wish to operate over. If it is a park or public space they want to operate at, the Kapiti Coast Distrcit Council (KCDC) would need to provide permission.

Subject to the altitude of the flight, the duration, location, controls in place including communication with the tower, and if the RPAS operator has provided sufficient information to satisfy Airport Management that all necessary requirements under CAR Part 101.205 are met, in particular references (A)(1),(A)(3) (i.e. copy of relevant certification/pilot qualification for the safety observer or the pilot), or (C) will not be of concern, we would generally be ok to provide approval to operate at an advised location that the RPAS operator may request.
The 4km radius for restricted RPAS activity
The aerial map below shows exactly how far reaching the 4km zone is. This map is only indicative of the typical flight paths of the aerodrome circuit and does not include flight paths of helicopters (that come in from any angle), and itinerant traffic that are transiting past the airport (generally along SH1 or along the coast). Our high concern areas are the take-off and approach paths (particularly where it may infringe a runway's Obstacle Limitation Surfaces) and the general aircraft circuit.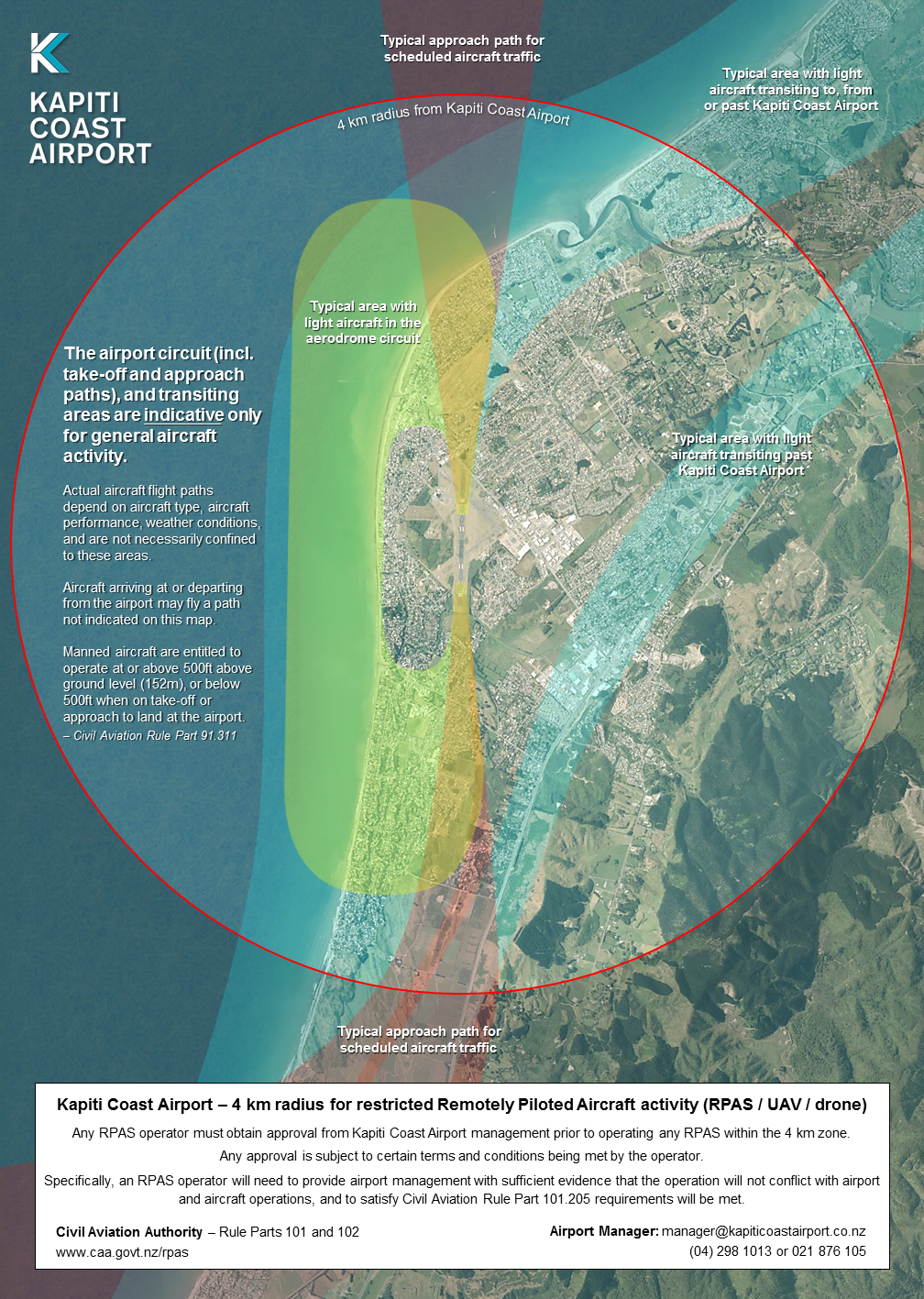 Click here for a larger image
Kapiti Coast Airport recommends RPAS operators visit the CAA and Airshare websites to keep up to date with the progression of RPAS rules by the CAA.
NOTE:
Completing an airshare.co.nz flight plan DOES NOT provide an approval from an Airport Authority.